Embedded analytics 
brings the power of data to
 your users, employees, partners
,
 and suppliers 
by transforming raw data into actionable insights. By doing this, embedded analytics has become an integral part of business
es
people
 lives 
and its value and the opportunities that it offers
 to
 businesses 
will continue to grow exponentially 
in the near future
.
What is Embedded Analytics?
Embedded analytics
 is a set of business intelligence (BI) capabilities
,
 data visualizations 
and advanced analytics, including machine learning & AI 
that are integrated into existing software applications. 
It delivers real-time reporting in the simplest way possible so that every user can understand it a
nd make data-driven decisions based on it. 
Why Businesses Use Embedded Analytics? 
Embedded analytics bring tremendous opportunities to various kinds of industries such as manufacturing, healthcare, retail, banking and financial services, and many more. These businesses and more are using the power of embedded analytics to collect and analyze data for various purposes, simplify their workflow, improve the user experience, as well as get ahead of their competitors. 
Benefits of Embedded Analytics
From seamless user experience and revenue growth to cultivating data-driven decision making, embedded analytics brings businesses a handful of advantages. As embedded analytics is integrated into the user's workflow, when using it, users can view key business insights in context. Instead of switching between different apps to get the data they need, everything is brought together into one place, increasing productivity. 
Embedded analytics helps reveal insights to users, but on the other side it also provides user insights to your team. Presenting accurate and up-to-date data enables analytical thinking that could ultimately drive to innovative ideas and improved products. 
On top of it all, embedded analytics could also provide additional revenue streams. For example, app vendors can generate additional income by providing extensions of their software to add value to their customers. 
Embedded Analytics Examples
Embedded analytics software can be utilized in many use cases in every data-driven industry. Here are a few examples of how industries such as manufacturing, banking and healthcare are benefiting from it:
Embedded Analytics in Manufacturing 
A plant floor manager is responsible for a manufacturing plant's entire production process, from when raw materials enter the plant to when the product exits the plant for distribution. The plant manager could use 
manufacturing analytics
 to see operational KPIs related to how the plant is performing and to:
To meet forecast production 

To reduce and eliminate production line downtime 

Improve supply chain agility
Embedded Analytics in Banking 
Banking analytics
 allows users in the banking industry to aggregate large volumes of data about borrowers for benchmarking and to better assess risk through intuitive visual dashboards. The real-time data lets users take fast and informed business decisions backed up by insights and also: 
Understand customer's spending patterns and push compelling offers on their credit / debit cards 

 
Detect fraudulent transactions, as well identify and monitor suspicious account holders

 

Suggest investment opportunities to customers based on their existing portfolio  

 
Embedded Analytics in Healthcare
Healthcare organizations, hospitals, and doctors' groups use 
healthcare analytics
 to access, analyze and process patient data in a timely manner in order to improve performance by delivering data-based quality care. They've been able to: 
Improve patient satisfaction and quality of care by streamlining tedious processes related to making appointments, processing insurance, and providing referrals.

 
Provide patients with more personalized treatment and improve overall patient experience.

 

Reduce readmission rates by leveraging population health data against personal patient data to predict at-risk patient.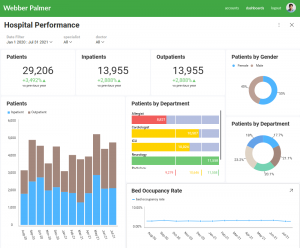 Why Reveal Is the Right Solution for Your Business

 

Reveal is an embedded analytics solution that provides businesses with the most powerful, flexible, and predictably priced analytics tool on the market. Built on modern architecture, Reveal was designed developer first and cloud-first with amazing UX as a key success criterion.

 

Reveal's rich API gives you full control of the feature in your app making it a seamless part of the user experience, so your users never feel like the analytics doesn't belong in your application. With interactive dashboards, drill-downs, collaboration, sharing, and true self-service with a drag and drop dashboard creator experience on any device, Reveal lets anyone built beautiful yet informative dashboards. 

 

With the power of embedded analytics, you, your employees, customers, partners, and suppliers will have more time to focus on the data insights and make better, smarter decisions. By having access to real-time data anytime, anywhere and from any device, you can act at the moment of impact and never miss an opportunity.

 

You can learn more about Reveal and how does it work by: Scheduling a quick demo with one of Reveal's embedded analytics experts. See how easily you can transform raw data into valuable business insights and get answers to all your questions. Register for an analytics and BI webinar – Get advanced tips and tricks, know-how, and learn about the latest trends and innovations in the ABI space from top data specialists. Interested in getting started? Reveal's modern approach includes all the features and users you need at a transparent and straightforward price – no hidden fees, no usage, or user tiers. Request a pricing quote.